Term Dates
The following table indicates both the term dates and the school and bank holidays for the academic year 2023/2024.  Each term has been divided into two sections – e.g. 'Autumn 1' and 'Autumn 2' – which together form the full Autumn term. The half term holiday separates the two parts of the term.
Please note that the school will not close for the following religious holidays: Eid-up-Adha, Diwali, Guru Nanak's Birthday or Eid-ul-Fitr. If applicable, and if requested in advance, children will be authorised for leave on these days.
Calendar dates for the academic year 2023/24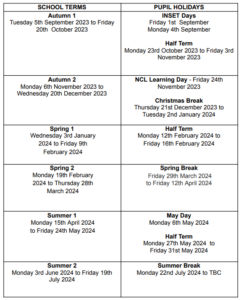 This page was last reviewed in September 2023.