Health
Health lessons support children in making healthy choices in and outside of school life. Children receive a half an hour session once a week taught by our specialist PE team. It builds on children's prior knowledge, from their science and RSHE lessons, about the body and how it works. It supports children's understanding of what healthy choices are and provides strategies to support them in making these in their everyday life. The curriculum is divided into six areas: Drugs including alcohol and tobacco, mental wellbeing, basic first aid, physical health and fitness, healthy eating and finally health prevention.
We think it is important to recognise the challenges children will face when making choices in their lives and provide them with support when doing so. The health sessions provide children with practical opportunities to experience and learn from. They also teach children how their physical health impacts their mental health and vice versa, providing strategies to support them in both areas. During every half term, Wellness project work will be completed across all year groups which provides an opportunity for children to apply their learning from the health lesson alongside their learning of mental health and relationships in a project linked to the wider world.
Our health timetable provides detailed information as to how we teach all elements of the curriculum across all year groups at our school.
How is health taught at Portway?
The Health curriculum is designed to help children form a PE scheme within their long-term memories.
Schema theory states that all knowledge is organised into units. A mental model is, therefore, a conceptual system for understanding knowledge.
Our Health mental model is a way of organising Health substantive and disciplinary knowledge in a meaningful way; it is an appreciation of how facts are connected and the ways in which they are connected. It is distinct from information, which is just isolated facts that have no organisational basis or links.
Big Ideas help form the basis of the mental model. Big Ideas are key concepts that underpin the subject. There are two Big Ideas in Health:
Keeping Safe (Understanding how to keep safe through basic first aid, as well as, supporting decision making when in danger or in dangerous environments)
Mind and Body (Learning how to keep both the mind and body physically/mentally healthy and ways in which to support any changes that may arise in the future)
Each Big Idea has knowledge strands which help to strengthen the mental model. Learning knowledge in each of the strands allows pupils to express and demonstrate their understanding of the Big Idea, which gradually develops as pupils return to them over and over again.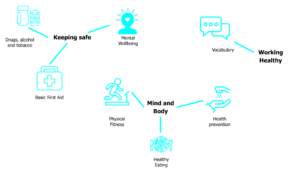 What is unique about health at Portway?